Today's adventurous april post is brought to you by the letter S.
Sydney Writers Centre
So before I get started talking about this weeks adventures I wanted to do a little shameless self-promotion.  I've entered this little blog of mine into a competition! At the beginning of the year I did a writing course at the Sydney Writers Centre and absolutely loved it! I met some great people, learned some valuable writing skills, and as a result am even getting my articles published. I really love writing and so when they announced their Best Blog Awards I jumped at the chance to take part.  So if you enjoy reading these posts as much as I enjoy writing them, why not click the link below and vote for me! Your support is truly appreciated.
Adventurous April Take 2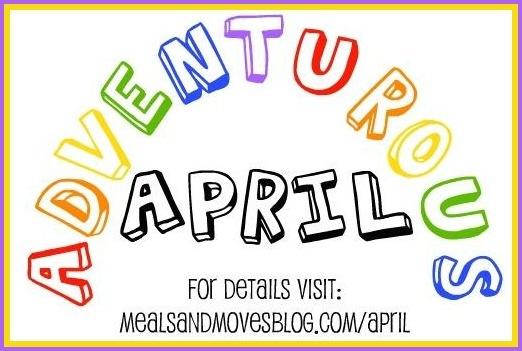 Last week I decided to put my adventurous april pants on and try some new things.  And this week was no different. This week I challenged myself to continue to try new foods, but also mix things up in my fitness routine. I try and workout 3 – 4 times a week, and usually stick to weight training to keep building up my muscles.  And while there is nothing wrong with that, I find that I really neglect any form of cardio.  Other than like 5 – 10 minutes warming up on the treadmill…but that doesn't count.  So I challenged myself to try a cardio class that I haven't done in forever: Spin. 
I looked up the timetable at my local Fitness First, and settled for an early evening class on Tuesday figuring it wouldn't be too crowded.  So yesterday after I got home from Uni I changed my clothes, put my adventurous pants on and headed out the door…
And then something truly unexpected happened…
I took a spill….
Not just a little trip and tumble either.  This was a full fledged feet slipping out from underneath you and sliding for several feet kinda spill.  It had been raining all day and our steep driveway was super slick.  When I went to walk down to the car I must have hit a particularly wet/mossy patch and I went splat.
It hurt.
Swear words may have even escaped from this Diva's lips.
And tears definitely started to well up.  I quietly picked myself up, got in the car, and cried.  I thought about going right back upstairs and calling it a day.  I was nervous about doing this spin class and almost used my spill as an excuse to just give up.
But I didn't.
I had my adventurous pants on (now slightly dirty and damp, but whatever) and I wasn't about to let anything stop me.  So off I went.
The Spin
I got to the gym nice and early to set up my bike and do a quick warm-up on the treadmill before the class started.
I was nervous as anything, but I knew I could do it.  At 4:45pm sharp our instructor, Jackie, turned up the music and got our class underway.  For 45 minutes we sprinted, climbed hills, and practiced some speed work.  Jackie was a speed demon, and I did my best to keep up with the pace she set.
I'm not gonna lie, this class was hard.  I kind of felt like this:
But afterwards I was really proud of myself and felt a great sense of accomplishment.
Until I got home and collapsed in a heap.
The Skip
After picking myself up (for the second time that day) I got started on making dinner using an ingredient I enjoy but don't buy very often: Kangaroo. The stats on this meat are pretty spectacular.  It's 98% fat free, is high in protein, and contains iron and zinc as well as omega-3 fatty acids!
Continuing with the S theme I decided to use this skip in a stir-fry, and throw in some sesame seeds for good measure.  It turned out better than good. Some may even call it scrumptious.
Orange Sesame Stir-Fry
Prep Time: 10 mins               Cooking Time: 10 mins
Serves 4
Ingredients:
Olive oil cooking spray
2 oranges
2 tbsp gluten free tamari (reduced salt variety)
1 tbsp lemon juice
1 tbsp maple syrup
1 tsp sesame oil
1 tsp apple cider vinegar
½ tsp gluten free corn starch mixed with 1 tbsp water
Cracked pepper to taste
1 tbsp sesame seeds
500g lean meat of choice (kangaroo, beef or chicken would work best), cut into strips
¼ cup coriander leaves to garnish (optional)
Steamed broccoli and brown rice to serve
Method:
Finely grate the zest of one orange into a measuring cup.  Cut both oranges in half and squeeze the juice into the measuring cup.  Add the lemon juice, maple syrup, sesame oil, apple cider vinegar, cornstarch mixture and pepper.  Stir to combine and set aside.
Place a non-stick fry pan or wok over medium heat.  Add sesame seeds and toast for several minutes, stirring often, until they turn a light golden colour.  Remove from pan and set aside.
Spray pan with cooking oil and return to heat.  Add meat and cook for several minutes until browned on both sides.  (Tip: Work in batches to prevent meat from stewing in its own juices; this ensures even browning.) Remove meat from pan and set aside.
Reduce flame to low and add sauce to pan, scraping up any bits of meat that may have stuck. When sauce starts to simmer, add meat back to pan.  Cook for 2 – 3 more minutes, stirring to coat.
Sprinkle toasted sesame seeds over meat, and garnish with coriander. Serve with steamed broccoli and brown rice. Enjoy!
After dinner I decided it was probably time to have a shower, do a bit of study, and go to sleep.  Even though I took a nasty spill, all in all it was a swell day.  Ok enough with the S's!
Now it's you turn!
What adventures, great or small, have you been getting up to?
Can't wait to hear about them!